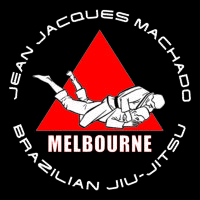 Jean Jacques Machado BJJ Melbourne
96A Hoddle Street
Abbotsford
Victoria, Melbourne 3067
Australia
+61478021105
Jean Jacques Machado BJJ Melbourne offers professional instruction in Brazilian Jiu-Jitsu and self-defence. The club is owned and operated by BJJ brown belt Ben Butler-Bonnice with the assistance of coach and BJJ black belt David Curnow. The club is one of a number of affiliates within Australia and benefits from the close support of Master Jean Jacques Machado and Prof Jay Zeballos and Stewart Moulden.
Instructor profiles:
David Curnow – BJJ Black Belt
David has been training in Brazilian Jiu-Jitsu for over 20 years and within the martial arts for over 30 years. He received his black belt from professor Stewart Moulden on behalf of Jean Jacques Machado in December 2014 at Stewies House of BJJ, Bendigo. David is a Forensic Psychologist and works within the criminal justice system.
Experience
• 30 years Martial arts
• 20 years BJJ
• 3rd degree black belt Tae Kwon Do
• Category 1 Floro fighting systems instructor
• 25 years experience in the criminal justice system.
Ben Butler-Bonnice – BJJ Brown Belt
Ben began his BJJ training under professor Stewart Moulden in 2009 and currently holds the rank of brown belt under professor Stewart Moulden and Jean Jacques Machado. During this time Ben has also developed freestyle wrestling and submission grappling experience with numerous trips overseas.
Ben is a physiotherapist and strength coach and works within private practice and circus arts.
Experience:
• 9 years BJJ
• Freestyle wrestling
• Amateur boxing, KyoKushin Karate, Muay Thai
• Competition experience freestyle wrestling Australia Cup, Australian nationals.
• BJJ Pan Pacific, Melbourne Open and Australian national competitor.